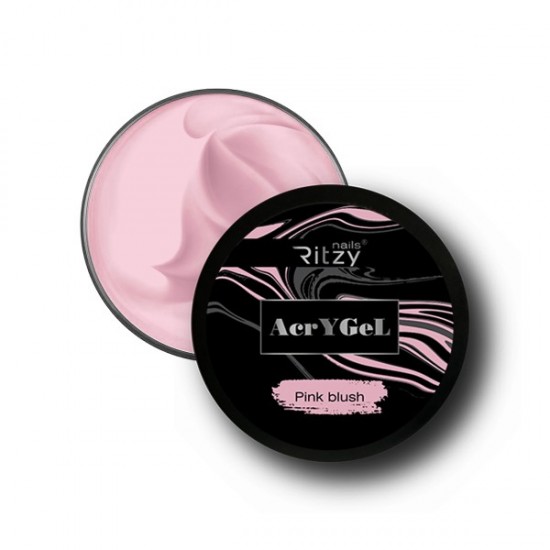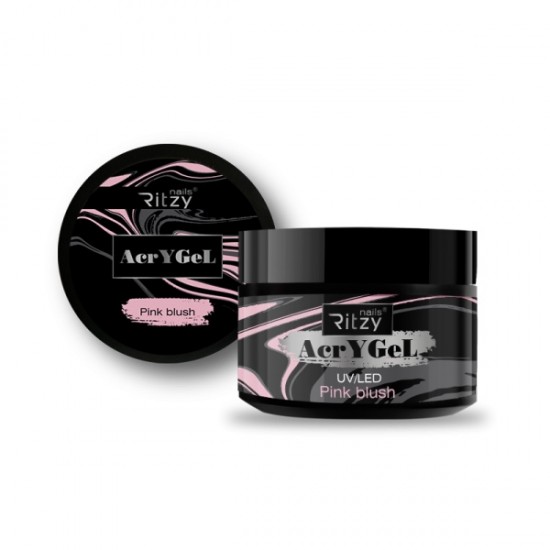 ACRYGEL PINK BLUSH 56ml
Acrygel (Polygel) has become a response to the wishes of nail stylists about combining all the advantages of two traditional systems for nail modelling, building, strengthening and designing artificial nails in one product.
No smell, hypoallergenic formulation, easy filling, comfort in application and filing, odour free, no burning reactions (heat spikes) while curing in the lamp.

You will also notice
1. Acrygel Dust density.
In the process of filing, the Acrygel dust is more substantial than the dust from classic gels and acrylic for about 30%. It immediately settles on the table and does not fly in the air. Of course, nail master still needs to use a mask, screen, glasses and a vacuum cleaner to collect dust, but significantly reduces the risk of occupational diseases (respiratory and contact allergies).
2. Reducing the risk of accidental skin contact. Since the Acrygel does not spread, do not self-level, do not move over the cuticle and sides in the process of application, the masters will be able to work at their own pace without haste. Acrygel is used with the Ritzy Nails Prep&Wipe, in which it is necessary to moisten the brush when stretching the Acrygel on the nail.
3. The comfort of working with the Acrygel
.Thanks to the new product, the master will be able to concentrate on the modelling and shape creation, without being distracted by the measurement of time during drying or the carefulness of combining the proportions of powder and monomer (as when working with acrylic). No need to worry about the random polymerisation of the material, if the open jar gets the sun's rays. Ritzy AcryGel hardens only in the lamp, does not dry in air and under the sun. The only thing worth remembering - when drying the Acrygel is the need to dry white shades of Acrygel longer and more thoroughly.
How to use
1. After the standard nail plate prep /cuticle work Ritzy Nails Dehydrator
2. Ritzy Ultrabonding primer
3 A thin layer of Ritzy Nails rubber or classic base (cure in a lamp 2 mins UV, 60 sec UV/LED)
4. Apply Acrygel, using the spatula.
5. Gently "spread" the product by Ritzy Acrygel Brush for the perfect shape. Don't forget to moisturise brush with PrepWipe Ritzy Nails solution
6. Cure 3 mins in UV lamp or 60-75 sec in LED/UV (white should be cured a bit longer)
7. Shape and buff the nail.
8. Apply Ritzy Nails "Glaze" or "Brilliance" top gel.
Stock:

In Stock

Model:

PINK BLUSH 56ml

RITZY Nails